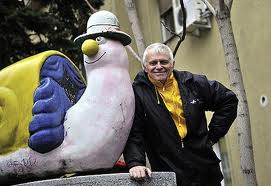 Serbia Sundays…proudly present Branislav "Branko" Milićević.
Also known by his nickname Branko Kockica (Branko the Little Cube), is a Serbian actor popular for his roles in children's TV shows.
He became famous for his work on a television series for children entitled Kocka, kocka, kockica (Cube, Cube, Cubelet) which was on the air for several decades. His work is admired in all region of former Yougoslavia.
Tune in January 26, Serbia Sundays…4:00-5:00 pm