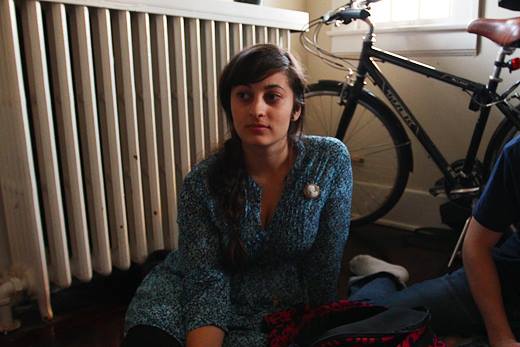 Through the support of the Community Radio Fund of Canada, CJAM 99.1FM was able to hire longtime CJAM volunteer Rosina Riccardo in the position of Youth Internship – Music Department Community Outreach and Development Coordinator.
From now until June, her role will be to find musicians in the city and educate them about getting their music recognized. This will include information such as sending in music to a station's music department, registering with SOCAN, booking gigs, creating press releases, and much more. The end goal is to compile research into a small publication featuring pertinent information for musicians and bands.
Rosina has volunteered with CJAM since 2009, hosting the weekly music program, The Canadian Jam with Matt Froese. She is working towards completing her Bachelor of Arts in Visual Arts and Communication, Media, and Film at the University of Windsor. Outside of radio she is a member of the creative research group Broken City Lab.
Rosina plans on hosting workshops and meetups in the next few months while getting to know as many local musicians as possible. "If you're in a band with upcoming gigs," says Rosina, "I would love to check them out and talk with you, too!"
If you're a musician, or know of musicians who could use direction on getting their music out and played on stations (including CJAM), get in touch with Rosina at cjammusicproject@gmail.com