Author of Graphic Encounters on Research Matters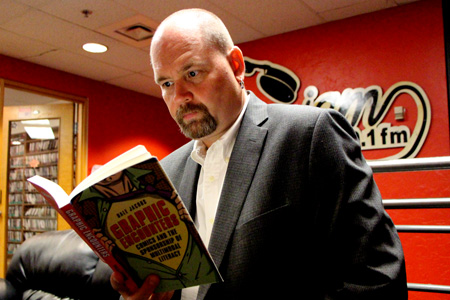 "Many people argue [graphic novels] are actually as demanding or more demanding because you have to be such an active reader in order to make sense of everything that's going on," said Dale Jacobs, author of Graphic Encounters: Comics and the Sponsorship of Multimodal Literacy. "You can read them on a very simplified level, but you're going to miss most of what's actually there."
Jacobs will discuss the book when he appears today on Research Matters, a weekly talk show that focuses on the work of University of Windsor researchers and airs this and every Thursday at 4:30 p.m. on CJAM 99.1 FM. Listen to the show before going to the book launch at Villains Beastro tomorrow night.
Volunteers do a lot at CJAM
Every time you tune in at 99.1 FM you're hearing a volunteer on the air. Volunteers also help by maintaining our enormous music library, writing radio scrips, producing public service announcements, interviewing cool artists, reviewing music, helping out at festivals & events, updating our social media, and so much more!
Volunteer Now