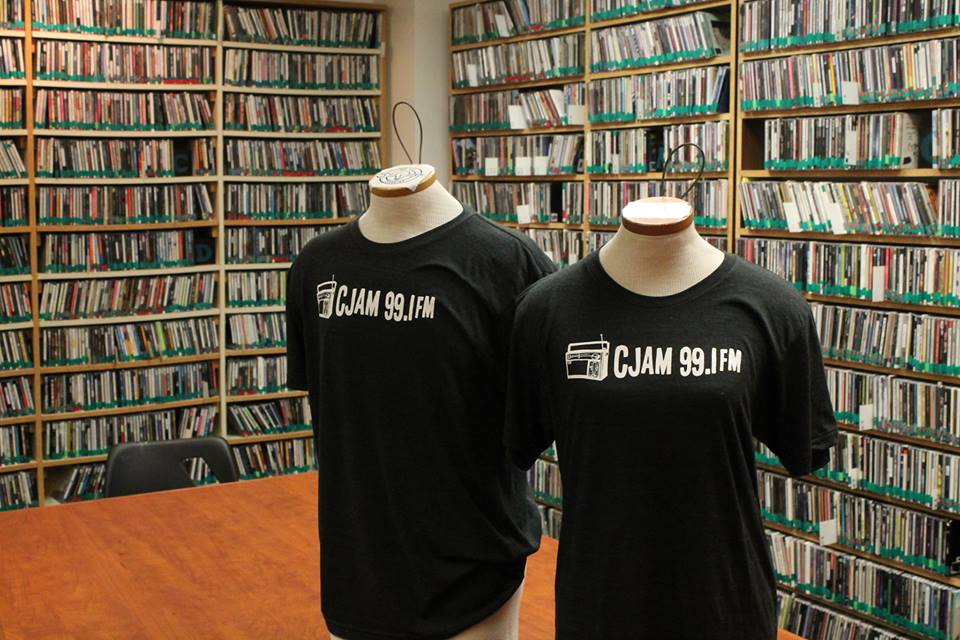 CJAM 99.1FM is asking YOU, our amazing listeners for support during our annual Pledge Drive. From November 1st until the 8th, we are raising $30,000 which amounts to about 20% of our operating budget. Once a year we ask the community to call in to their favorite CJAM programs and donate. As of Saturday night, we are past the $6000 mark, but it's only the beginning.
Your donation goes towards keeping CJAM moving forward. It pays for equipment repairs, insurance, tariffs, (modest) staff salary, and volunteer events. To thank you for your generous donations, we have some very cool prizes.
$20 INCENTIVE – MUSIC PRIZE PACK:
Donating 20$ allows donors to go into the music CD store at CJAM and pick out a music prize from our room of music incentives. Alternatively, some hosts have created music giveaways for listeners, so check with your favorite show.
$50 INCENTIVE – T-shirt
Limited edition CJAM 2012 T-Shirts (above), screen printed on a black American Apparel track shirt for a $50 pledge. T-shirt design is by the talented Greg Maxwell.
$100 incentive – Gift package + t-shirt
The Gift packages will feature different items and gift certificates from local businesses and organizations, plus a limited edition t-shirt!
And pledging is always easy and safe. We accept cash, cheque, Visa, Mastercard, Paypal, or money order.
Calling in:
The classic method of donating to CJAM is of course to call in during your favorite program. The Pledge Drive numbers are the same as our normal request numbers (Windsor: 519-971-3630 and toll-free from Detroit and out of town: 1-855-344-2526).
Coming by in person:
Staff has extended their hours from November 1st to the 8th. Come by from 9AM to 7PM to donate in person. We are located in the basement of the CAW Student Centre at the University of Windsor. Make your donation and pick up your prize in one fell swoop.
CJAM.ca
Donate in your pajamas anywhere in the world! Credit card or paypal, you can donate by checking out the donate button at the top of www.cjam.ca, where you smartly are right now.