Momir Bulatovic on Serbia Sundays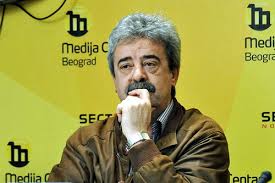 Serbian Sundays on February 2nd proudly presents Mr. Momir Bulatovic. He formerly served as a Yugoslavian and Montenegrin politician. Bulatovic became federal President of Montenegro (1990-1998) while Montenegro was a part of Yugoslav Federation and also Prime Minister of the Federal Republic of Yugoslavia (1998-2000). Member of Serbian team at the piece negotiation in Dayton and one of the closest Milosevic allay. He was the last man saw Milosevic alive in the prison cell of the International Court of Law in Hague. Today he lives in Belgrade, Serbia.
Tune in February 2 at 4 pm/Serbia Sunday's exclusive from Belgrade Momir Bulatovic…
Cjam 99.1 fm/www.cjam.ca
Celebrate Serbian politics, culture and religion since 1983
Volunteers do a lot at CJAM
Every time you tune in at 99.1 FM you're hearing a volunteer on the air. Volunteers also help by maintaining our enormous music library, writing radio scrips, producing public service announcements, interviewing cool artists, reviewing music, helping out at festivals & events, updating our social media, and so much more!
Volunteer Now