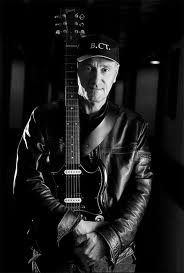 On February 9. "Serbia Sundays" and exclusive guest from Skopje (Macedonia), guitar virtuoso Vlatko Stefanovski.
"…He started playing guitar at the age of 13. In his late teens he formed the group "Leb i sol" which became one of the most important names in the music scene of former Yugoslavia. "Leb i sol" released 14 albums and had toured around the world.
Since the mid- nineties Stefanovski has developed a very successful solo career. He has recorded remarkable solo releases, like "Cowboys & Indians", "Sarajevo", "Vlatko Stefanovski trio", "Kula od karti", "Thunder from the blue sky" etc. The collaboration with Miroslav Tadic,
on the albums "Krushevo", "Treta majka", "Live in Belgrade", and "Live in Zagreb" put a new light on Vlatko's acoustic guitar work, and his further exploration of the Macedonian traditional music.
In the last several years he has played and recorded all around the world with many top artists like Tommy Emmanuel, Stochelo Rosenberg, Gibonni, Jan Akkerman, Theodosii Spassov, Stefan Milenkovic, Kudsi Erguner, Bojan Z., Manu Katche, Toni Levin, and many others. His recent work also includes music for films, theatre and ballet.
As a soloist Vlatko has performed and recorded with numerous orchestras and enesmbles, like London Simphony Orchestra, MDR Leipzig Simphony Orchestra, Monte Carlo Philcharmony Orchestra, Tonkunstler orchestra from Vienna, Simphonieta Orchestra from Sophia, Slovenian philharmony orchestra – Ljubljana, Student symphony orchestra from Skopje – Macedonia, FoolCool Jazz big band, RTV Ljubljana Big Band, Croatian HTV big band, RTV Srbija Big band etc.
Stefanovski is well known for his unique guitar technique and tone. With hisVlatko Stefanovski Trio he has performed around the world…"
Tune in next Sunday February 9/4:00 pm
Serbia Sundays…celebrate Serbian politics, culture and religion.